Russian mixed martial artist Islam Ramazanovich Makhachev, who was born on October 27, 1991, is also a former Sambo participant. He is the current UFC Lightweight Champion and participates in the Ultimate Fighting Championship's (UFC) Lightweight division. Since 2010, Makhachev has competed professionally, and in 2016, he won the 74-kilogram combat sambo world championship. He is ranked #2 among men in the UFC's pound-for-pound rankings as of November 14, 2022.
Islam Makhachev's childhood: Growing up in Dagestan
Islam didn't always aspire to be the world lightweight champion in the UFC. The Dagestani warrior claims that his purpose for fighting is to defend his republic and home.
"Our republic continues to be the crucible of heroes. It's an excellent motivator. Islam discusses his reasons for competing in mixed martial arts. "I was born in Makhachkala, Dagestan. However, I have lived in this village all my life.
Growing up in the mountains, Islam Makhachev travelled for miles while hauling rocks. It goes without saying that Makhachev's upbringing and early years are to blame for his tremendous strength; Islam himself attributes this to the difficult efforts he did as a young child, which led to his physical strength and development.
Makhachev, a Lak by ethnicity, was raised in the isolated village of Burshi, which is now a part of the Russian Republic of Dagestan, and trained and competed in combat sambo. He was born in Makhachkala.
He took home the gold medal at the 2016 World Combat Sambo Championship. In the championship match, he defeated Bulgarian Valentin Benishev 7-0.
Islam Makhachev Height, Weight
Islam Makhachev is a professional mixed martial artist. He is considered a lightweight fighter and is known for his strong grappling skills. He stands at 5'10" tall and weighs around 155 lbs, which is the average weight for a lightweight fighter. Makhachev has a lean and muscular physique, which he maintains through intense training and conditioning. His body type is ideal for his fighting style as it allows him to be quick, agile, and powerful. Makhachev's combination of strength, speed, and grappling skills makes him a formidable opponent in the octagon.
How much did islam makhachev get paid
Islam Makhachev is a professional mixed martial artist who earns a significant amount of money for each fight he competes in. The exact amount that Makhachev earns for each fight can vary depending on factors such as his opponent, the location of the event, and the size of the purse offered by the promotion. According to reports, Makhachev has earned anywhere from tens of thousands to hundreds of thousands of dollars for his fights in the Ultimate Fighting Championship (UFC). His pay per fight can also be increased through bonuses and performance-based incentives. Makhachev's career earnings to date are estimated to be in the millions of dollars, making him one of the highest paid fighters in the sport of mixed martial arts.
Islam Makhachev Net Worth
Islam Makhachev is a successful professional mixed martial artist and has built a substantial net worth through his fighting career. As of 2023, Makhachev's estimated net worth is around $1 million dollars. He has earned a significant portion of his wealth through his fights in the Ultimate Fighting Championship (UFC), one of the largest mixed martial arts organizations in the world. Makhachev has also earned additional income through endorsement deals, sponsorships, and other business ventures. Despite his financial success, Makhachev remains focused on his training and fighting career, and is considered one of the top fighters in the lightweight division.
Is Islam Makhachev Related to Khabib
Islam Makhachev and Khabib Nurmagomedov have been friends since they were little. At the same time, Makhachev and Nurmagomedov enrolled at the American Kickboxing Academy.
Islam and Khabib once shared a home and attended the same school. In terms of years, Makhachev and Nurmagomedov are three years apart. The two warriors have a brotherly closeness with one another that has only grown stronger over time.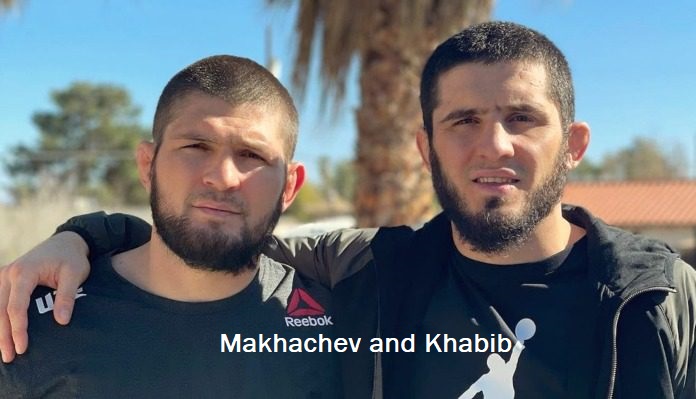 Like Khabib, Abdulmanap Nurmagomedov, Khabib's father, is largely responsible for Islam's understanding of mixed martial arts. At a very young age, Makhachev began training with Abdulmanap Nurmagomedov.
"I learned that Khabib works out with his dad. When I showed up, Khabib was already there. I asked if we could train there as well, and we got going. Islam discloses.
Khabib Nurmagomedov admits that Abdulmanap Nurmagomedov always saw Islam Makhachev rising to power. Islam will come when you go, Khabib remembers his father saying.
Due to the language hurdles, Nurmagomedov first served as Makhachev's interpreter but has consistently stood by him during all of his fights.
"We used to meet at the training and he lived next door," said Islam. We attended the same school and used the same gym for training. We have been friends for about 20 years, dating back to our early years.
Likely contributing to Khabib's performance inside the Octagon, Makhachev stood by his side during Khabib's retirement match against Justin Gaethje at UFC 254.
Mixed martial arts career
M-1 Global
On February 12, 2011, Makhachev faced Tengiz Khuchua in his M-1 Global debut, and he won by first-round KO.
On April 9, 2013, at M-1 Challenge 38, Makhachev faced Mansour Barnaoui in his second match for the promotion. He was the unanimous victor (30–27, 30–27, 30–27).
On August 21, 2013, at M-1 Challenge 41, Makhachev went off against undefeated Brazilian Jiu-Jitsu black belt Rander Junio. He obtained a unanimous victory.
On June 7, 2014, at M-1 Challenge 49, Makhachev squared off against M-1 Global Yuri Ivlev. Islam had the upper hand throughout the bout. He used punches to subdue Ivlev before applying an armbar to end it.
On September 7, 2014, Makhachev defeated Ivica Truscek by submission in the third round of his final fight for M-1 Global before joining the UFC.
Ultimate Fighting Championship
Makhachev agreed to a four-fight deal with the UFC on October 2, 2014. On May 23, 2015, at UFC 187, he finished Leo Kuntz in the second round by submission.
At UFC 192, Makhachev took on Adriano Martins on October 3, 2015. His first defeat as a professional came in the first round when he was knocked out.
At UFC on Fox 19, Makhachev was scheduled to take on Drew Dober on April 16, 2016. Makhachev failed an out-of-competition drug test and tested positive for the illegal anti-ischemic meldonium, the UFC reported following the weigh-ins. The game was abandoned. The suspension of Makhachev was revoked by USADA on July 2nd, 2016 following a hearing.
At UFC Fight Night 94 on September 17, 2016, he squared off against Chris Wade. He prevailed by unanimous judgement in the match.
On February 11, 2017, Makhachev competed against Nik Lentz at UFC 208.
He prevailed via unanimous decision (30–27, 30–25, 30–25).
A matchup between Makhachev and Michel Prazeres was scheduled for UFC Fight Night 115 on September 2, 2017. Mads Burnell was brought in to fight in Makhachev's place after the latter withdrew for religious reasons at the beginning of August.
On January 20, 2018, Makhachev faced Gleison Tibau at UFC 220. In the first round, he knocked out the opponent in 57 seconds to win.
On July 28, 2018, Makhachev took on Kajan Johnson at UFC on Fox 30.When Makhachev knocked Johnson to the ground in the opening round, he worked to mount and then locked on an armbar, causing Johnson to submit.
On January 26, 2019, Makhachev was scheduled to compete against Francisco Trinaldo at UFC 233.
Makhachev was reportedly replaced by Alexander Hernandez on November 11, 2018, after withdrawing from the event for an unclear reason.
On April 20, 2019, Makhachev and Arman Tsarukyan squared off on UFC on ESPN+ 7. He prevailed by unanimous judgement in the match. He was awarded Fight of the Night for this victory.
At UFC 242, Makhachev and Davi Ramos squared off on September 7, 2019. He prevailed by unanimous judgement in the match.
At UFC 249, Makhachev and Alexander Hernandez were slated to square off on April 18, 2020. However, Omar Morales was added to the card in lieu of Makhachev because to COVID-19-related travel limitations.
Rafael dos Anjos and Makhachev were scheduled to square off on October 24, 2020, at UFC 254.
On October 8, 2020, it was revealed that dos Anjos had tested positive for COVID-19, and as a result, he had been disqualified from the fight. The matchup was kept the same and moved to UFC Fight Night: Felder vs. dos Anjos on November 14, 2020. On November 8, it was revealed that Makhachev had to cancel the event because of a staph infection.
At UFC 259, Makhachev and Drew Dober squared off on March 6, 2021. In the third round, he submitted with an arm-triangle choke to win the match.
On July 17, 2021, Makhachev and Thiago Moisés squared off on UFC on ESPN 26. In the fourth round, he submitted by rear-naked choke to win the bout.
It was planned for a fight with former UFC Lightweight Champion Rafael dos Anjos to happen at UFC 267 on October 30, 2021.
Dos Anjos, however, was forced to withdraw from the competition owing to an injury, and Dan Hooker took his place. In the opening round, he submitted the opponent using the kimura move.
Beneil Dariush and Makhachev were supposed to square off on February 26, 2022 at UFC Fight Night 202. Bobby Green was reportedly brought in to fill in for Dariush when he withdrew due to an ankle injury on February 12, 2022. He TKO'd the opponent in the opening round using ground and pound.
UFC Lightweight Champion
On October 22, 2022, at UFC 280, Makhachev competed against Charles Oliveira for the vacant UFC Lightweight Championship. After punching Oliveira to the ground and choking him with an arm-triangle choke in the second round, Makhachev won the fight and the title. He was awarded the Performance of the Night bonus for this triumph.
For his accomplishments in the martial arts, Makhachev received the Order "For Merit to the Republic of Dagestan" in November 2022.
On February 12, 2023, at UFC 284, Makhachev is slated to face Alexander Volkanovski, the current UFC Featherweight Champion, in his first title defence.
Championships and accomplishments
Mixed martial arts
Ultimate Fighting Championship
UFC Lightweight Championship (One time, current)
Fight of the Night (One time) vs. Arman Tsarukyan
Performance of the Night (One time) vs. Charles Oliveira
Least significant strikes absorbed per minute in UFC history (0.95)
Third longest win streak in UFC Lightweight division history
ProFC

ProFC Union National Cup
MMAjunkie.com
2021 March Submission of the Month vs. Drew Dober
2021 October Submission of the Month vs. Dan Hooker
2022 October Submission of the Month vs. Charles Oliveira
2022 Submission of the year vs. Charles Oliveira
Sambo
Fédération Internationale Amateur de Sambo (FIAS)

2016 FIAS World Combat Sambo Championships Gold Medalist

World Combat Sambo Federation (not FIAS)

Combat Sambo World champion

Combat Sambo Federation of Russia

Combat Sambo Russian National champion (four time)

All-Russian

Russian Nationals 2016 champion (World Team Trials-FIAS)
Grappling
UWW Russian Grappling Federation

North Caucasian Federal District 1st
Mixed martial arts record
| | | |
| --- | --- | --- |
| 24 matches | 23 Wins | 1 Loss |
| By knockout | 4 | 1 |
| By submission | 11 | 0 |
| By decision | 8 | 0 |
| Res. | Record | Opponent | Method | Event | Date | Location | Notes |
| --- | --- | --- | --- | --- | --- | --- | --- |
| Win | 23–1 | Charles Oliveira | Submission (arm-triangle choke) | UFC 280 | 22-Oct-22 | Abu Dhabi, United Arab Emirates | Won the vacant UFC Lightweight Championship. Performance of the Night. |
| Win | 22–1 | Bobby Green | TKO (punches) | UFC Fight Night: Makhachev vs. Green | 26-Feb-22 | Las Vegas, Nevada, United States | Catchweight (160 lb) bout. |
| Win | 21–1 | Dan Hooker | Submission (kimura) | UFC 267 | 30-Oct-21 | Abu Dhabi, United Arab Emirates | |
| Win | 20–1 | Thiago Moisés | Submission (rear-naked choke) | UFC on ESPN: Makhachev vs. Moisés | 17-Jul-21 | Las Vegas, Nevada, United States | |
| Win | 19–1 | Drew Dober | Submission (arm-triangle choke) | UFC 259 | 6-Mar-21 | Las Vegas, Nevada, United States | |
| Win | 18–1 | Davi Ramos | Decision (unanimous) | UFC 242 | 7-Sep-19 | Abu Dhabi, United Arab Emirates | |
| Win | 17–1 | Arman Tsarukyan | Decision (unanimous) | UFC Fight Night: Overeem vs. Oleinik | 20-Apr-19 | Saint Petersburg, Russia | Fight of the Night. |
| Win | 16–1 | Kajan Johnson | Submission (armbar) | UFC on Fox: Alvarez vs. Poirier 2 | 28-Jul-18 | Calgary, Alberta, Canada | |
| Win | 15–1 | Gleison Tibau | KO (punch) | UFC 220 | 20-Jan-18 | Boston, Massachusetts, United States | |
| Win | 14–1 | Nik Lentz | Decision (unanimous) | UFC 208 | 11-Feb-17 | Brooklyn, New York, United States | |
| Win | 13–1 | Chris Wade | Decision (unanimous) | UFC Fight Night: Poirier vs. Johnson | 17-Sep-16 | Hidalgo, Texas, United States | |
| Loss | 12–1 | Adriano Martins | TKO (punch) | UFC 192 | 3-Oct-15 | Houston, Texas, United States | |
| Win | 12–0 | Leo Kuntz | Submission (rear-naked choke) | UFC 187 | 23-May-15 | Las Vegas, Nevada, United States | |
| Win | 11–0 | Ivica Trušček | Submission (inverted triangle choke) | M-1 Challenge 51 | 7-Sep-14 | Saint Petersburg, Russia | Catchweight (165 lb) bout. |
| Win | 10–0 | Yuri Ivlev | Submission (armbar) | M-1 Challenge 49 | 7-Jun-14 | Ingushetia, Russia | |
| Win | 9–0 | Rander Junio | Decision (unanimous) | M-1 Challenge 41 | 21-Aug-13 | Saint Petersburg, Russia | |
| Win | 8–0 | Mansour Barnaoui | Decision (unanimous) | M-1 Challenge 38 | 9-Apr-13 | Saint Petersburg, Russia | |
| Win | 7–0 | Anatoly Kormilkin | Submission (armbar) | Lion's Fights 2 | 2-Sep-12 | Saint Petersburg, Russia | |
| Win | 6–0 | Migel Grigoryan | Submission (rear-naked choke) | Siberian Fighting Championship 1 | 15-Dec-11 | Tomsk, Russia | |
| Win | 5–0 | Vladimir Egoyan | Decision (split) | ProFC: Union Nation Cup Final | 2-Jul-11 | Rostov-on-Don, Russia | |
| Win | 4–0 | Magomed Ibragimov | Submission (triangle choke) | Tsumada Fighting Championship 5 | 1-Jul-11 | Tsumadinsky, Russia | |
| Win | 3–0 | Martiros Grigoryan | TKO (punches) | ProFC: Union Nation Cup 15 | 6-May-11 | Simferopol, Ukraine | |
| Win | 2–0 | Tengiz Khuchua | KO (punch) | M-1 Selection Ukraine 2010: The Finals | 12-Feb-11 | Kyiv, Ukraine | |
| Win | 1–0 | Magomed Bekbolatov | Decision (unanimous) | Tsumada Fighting Championship 4 | 1-Aug-10 | Tsumadinsky, Russia | Lightweight debut. |