Introduction:
Robert John Whittaker is a well-known name in the world of mixed martial arts. Born on December 20, 1990, in Ōtāhuhu, Auckland, New Zealand, he is an Australian professional mixed martial artist who currently competes in the Middleweight division in the Ultimate Fighting Championship (UFC). In this article, we will dive into Whittaker's life, career, and achievements.
Early Life and Karate Background
Whittaker was born in Ōtāhuhu, Auckland, New Zealand, and later moved to Australia with his family. He was only seven years old when his father enrolled him and his brother in a Goju-ryu Karate school to teach them self-discipline and self-defence. He trained in the discipline for over eight years, earning his black belt before his father gave him the opportunity to switch to another sport or drop karate entirely. While his brother chose to drop out, Robert decided to switch to a Hapkido gym run by Henry Perez in Menai, where he eventually transitioned into mixed martial arts.
Professional MMA Career
Whittaker's professional MMA career began in 2009, and he made his way into the Ultimate Fighting Championship (UFC) after competing on The Ultimate Fighter: The Smashes. He was a contestant on the first series of the show and won the welterweight tournament. After winning the interim middleweight championship title at UFC 213, he was promoted to the undisputed champion after Georges St-Pierre vacated the UFC Middleweight Championship in 2017.
Whittaker has a professional record of 24 wins and 6 losses. He is known for his well-rounded fighting style and has won many fights through his striking, grappling, and ground-and-pound skills. He has fought some of the biggest names in the UFC, including Yoel Romero, Kelvin Gastelum, Israel Adesanya, and Darren Till.
Whittaker's Rankings and Achievements
As of January 24, 2023, Whittaker is #14 in the UFC men's pound-for-pound rankings and #2 in the UFC middleweight rankings as of November 15, 2022. He is widely regarded as one of the best middleweight fighters in the world.
Whittaker has also been the recipient of several awards, including the Fight of the Night, Performance of the Night, and Knockout of the Night bonuses. He has been recognized for his achievements by the Australian government, receiving the Medal of the Order of Australia in 2019 for his contribution to sports.
Whittaker's Sportsmanship
Whittaker is known for his humble and respectful attitude towards his opponents. He prefers not to engage in trash-talk outside of the octagon, and his focus is solely on his training and improving his skills. As he puts it, "I'm the type of fighter that goes into every fight with no ill will towards my opponent. I'm an athlete first and foremost and I love the sport."
Robert Whittaker's Early Career in MMA
Signing with Xtreme Fighting Championships
In 2008, Whittaker signed with Australia's Xtreme Fighting Championships and made his debut on March 14, 2009. He fought against fellow pro debutant Chris Tallowin and won the fight via TKO in the first round. Whittaker then continued his career with Cage Fighting Championships, going 6-0 inside the promotion from 2009 to 2011.
First Loss and Bouncing Back
Whittaker suffered his first loss on October 30, 2011, when he travelled to Cotai, Macau, for Legend Fighting Championships 6. He fought Hoon Kim and lost via submission in the first round. However, Whittaker bounced back from the loss and won two consecutive bouts before suffering his second loss to Jesse Juarez, which brought his overall record to 9-2.
The Ultimate Fighter:
The Smashes In 2012, Whittaker's coach, Henry Perez, put him forward for the first series of The Ultimate Fighter: The Smashes, which pitted a team of eight Australians against a team of eight men from the United Kingdom. Whittaker was selected as one of the cast members and had a successful run on the show.
Knockout of the Season
In his first fight on the show, Whittaker fought Luke Newman. He landed a punch flush on the chin of Newman after 19 seconds, knocking him unconscious for several minutes. The win moved him onto the semifinal round and also earned him an additional $25,000 for "Knockout of the Season."
Moving into the Final Round
In the semifinal, Whittaker was matched against replacement fighter and fellow Team Australia teammate, Xavier Lucas. Whittaker won via knockout at 1:17 in the first round, moving him into the final round of the competition, which would take place live on UFC on FX: Sotiropoulos vs. Pearson.
Early UFC Fights Whittaker made his UFC debut on December 15, 2012, at UFC on FX 6, also known as "The Ultimate Fighter: The Smashes Finale." He fought Brad Scott to determine the welterweight winner of The Ultimate Fighter: The Smashes and won the fight via unanimous decision to become the first winner of The Ultimate Fighter: The Smashes alongside Norman Parke, who was the lightweight winner.
Wins and Losses in UFC
Whittaker had several fights in the UFC, including wins against Colton Smith and Mike Rhodes, and a loss to Court McGee. He was also expected to face Brian Melancon, but the bout was cancelled after Melancon retired due to injury. Whittaker faced Stephen Thompson at UFC 170 and lost the fight via TKO in the first round.
Move to middleweight
Whittaker faced Clint Hester in a middleweight bout on 8 November 2014 at UFC Fight Night 55. He won the back-and-forth fight via TKO in the second round. The win also earned Whittaker his first Fight of the Night bonus award.
Whittaker faced Brad Tavares on 10 May 2015 at UFC Fight Night 65. He won the fight via knockout in the first round. The win also earned Whittaker his first Performance of the Night bonus award.
Whittaker was expected to face Michael Bisping on 15 November 2015 at UFC 193. However, Bisping pulled out of the fight on 30 September, citing an elbow injury, and was replaced by Uriah Hall. Whittaker defeated Hall by unanimous decision (30–27, 30–27, and 29–28).
Whittaker next faced Rafael Natal on 23 April 2016 at UFC 197. Whittaker won the back and forth fight via unanimous decision.
Whittaker faced Derek Brunson on 27 November 2016 at UFC Fight Night 101. He won the back and forth fight via first-round TKO. The win also earned him the Performance of the Night and the Fight of the Night bonus awards.
Whittaker faced Ronaldo Souza on 15 April 2017 at UFC on Fox 24. He won by second-round TKO and in the process became the first person to finish Souza since 2008. The win also earned Whittaker his third Performance of the Night bonus award
UFC Middleweight Champion Robert Whittaker: Career Highlights
Whittaker's Rise to the Top
· Robert Whittaker fought for the interim middleweight title against Yoel Romero on July 8, 2017, at UFC 213, after Michael Bisping announced a nagging knee injury.
· Whittaker won by unanimous decision, becoming the first Australian and New Zealand-born fighter to hold a UFC title.
· Whittaker missed the rest of 2017 due to a medial knee injury to his left leg.
Undisputed Champion
· On December 7, 2017, Georges St-Pierre vacated the middleweight title, promoting Whittaker to undisputed champion.
· Whittaker's first title defense was set for UFC 221 against Luke Rockhold on February 10, 2018.
· However, Whittaker withdrew from the event due to an undisclosed injury, and Yoel Romero replaced him for the interim middleweight championship.
· Whittaker was in a serious condition due to an untreated staph infection in his stomach.
Rematch with Romero
· Whittaker had a rematch with Yoel Romero at UFC 225 on June 9, 2018.
· Romero missed weight, and the fight was contested as a non-title catchweight bout.
· Whittaker won by a close split decision, and their fight was awarded the 'Fight of The Night' honors.
Coaching and Emergency Surgery
· Whittaker and Kelvin Gastelum were selected as coaches for Ultimate Fighter 28 in July 2018.
· Whittaker was set to defend his title against Gastelum at UFC 234 on February 10, 2019.
· However, Whittaker pulled out of the event hours before the fight due to an abdominal hernia of the intestine and a twisted and collapsed bowel.
Title Loss to Adesanya
· Whittaker faced Israel Adesanya on October 6, 2019, at UFC 243.
· He lost the bout and the championship via second-round knockout.
Robert Whittaker's Freestyle Wrestling Career
Whittaker's Introduction to Freestyle Wrestling
In 2015, Robert Whittaker began competing in amateur freestyle wrestling tournaments. His first tournament was the Australia Cup in Canberra, where he won all three of his bouts. Whittaker also expressed his interest in representing Australia in wrestling competitions.
Winning Gold in Australian National Wrestling Championships
In May 2017, Whittaker participated in the Australian National Wrestling Championships in the 97 kg (213 lbs) division and emerged as the champion, claiming the gold medal.
Qualifying for Commonwealth Games 2018
Following his victory, Whittaker took part in the Commonwealth Games 97 kg qualifying tournament in November 2017 and secured the first position in his division, earning a spot to represent Australia in the 2018 Commonwealth Games.
Balancing UFC and Commonwealth Games Commitments
Whittaker made it clear that he would only participate in the Commonwealth Games if it didn't conflict with his UFC commitments. In March 2018, it was confirmed that he would be one of eight Australians to compete in the Commonwealth Games wrestling competition in April 2018.
Withdrawal from Commonwealth Games
However, less than three weeks from the event, Whittaker withdrew from the Commonwealth Games to avoid the risk of being stripped of his UFC championship title. The UFC was concerned that any injuries he might sustain during the games would leave him unable to defend his middleweight championship against Yoel Romero at UFC 225, which took place on 9 June 2018.
Robert Whittaker: Personal Life, Nationality and Community Service
Robert Whittaker, a successful mixed martial arts (MMA) fighter, has a fulfilling personal life, representing both Australia and New Zealand, and contributing to his community through youth clinics.
Personal Life
Whittaker is married to Sofia and they have three sons, John, Jack and Jace, and a daughter, Lilliana. Additionally, he has legal guardianship of his younger half sister and brothers, Kerehi and Henry Matafeo.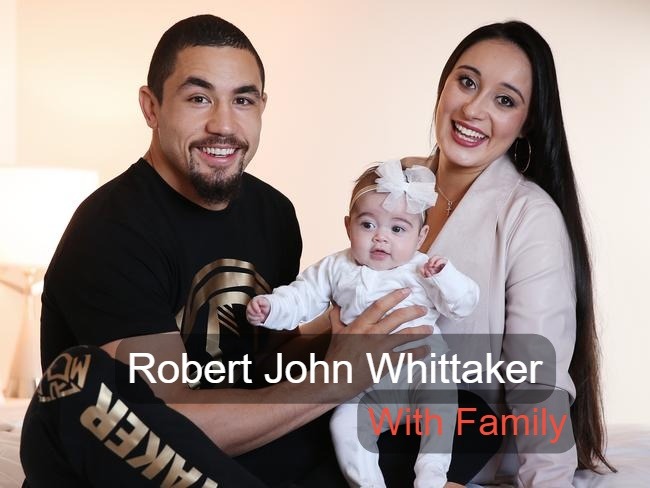 Representing Both Australia and New Zealand
Whittaker has both Australian and New Zealand heritage. He was born in New Zealand and moved to Australia when he was a month old. In an interview, he expressed his pride in having Maori heritage, stating "I feel really privileged to have that Maori blood and link to my past." When asked about his nationality, Whittaker declared that he represented both countries in his MMA career.
Community Service
Whittaker has given back to his community by holding youth clinics at his home gym, Gracie jiu-jitsu at Smeaton Grange. He has also visited several remote Australian Indigenous youth communities at inland New South Wales, inspiring young athletes and promoting combat sports as a career path. Whittaker hopes to be a good role model for both up-and-coming athletes and men in general. Through his community service, he aims to make a positive impact on the younger generation.
 How tall is robert whittaker.?
Robert Whittaker is an Australian mixed martial artist who competes in the Ultimate Fighting Championship (UFC). He is known for his impressive skills and achievements in the sport. As for his height, Robert Whittaker stands at 6 feet or 1.83 meters tall. This places him in the average to above-average height range for a male athlete, which is an advantage in combat sports like MMA where reach and height can play a crucial role in a fighter's performance. Despite his height, Whittaker's success in the sport is due to his exceptional talent, hard work, and dedication.
Robert whittaker height and weight.
Robert Whittaker is a well-known mixed martial artist from Australia who has competed in various weight classes throughout his career. As of his most recent fights, Whittaker competes in the middleweight division of the Ultimate Fighting Championship (UFC). As for his height, Whittaker stands at 6 feet or 1.83 meters tall. In terms of weight, Whittaker has competed in two different weight classes in the UFC – middleweight and welterweight. At welterweight, Whittaker weighed in at 170 pounds or 77 kilograms, while at middleweight, he weighed in at the maximum limit of 185 pounds or 84 kilograms. Whittaker's height and weight have played a significant role in his success as a fighter, and he has proven himself to be a formidable opponent in the octagon regardless of which weight class he competes in.
Robert Whittaker Records
Robert Whittaker Record
Professional record breakdown 
30 matches
24 wins
6 losses
By knockout
9
2
By submission
5
1
By decision
10
3
Res.
Record
Opponent
Event
Date
Location
Notes
Win

24–6

Marvin Vettori
UFC Fight Night: Gane vs. Tuivasa

3-Sep-22

Paris, France
Loss

23–6

Israel Adesanya
UFC 271

12-Feb-22

Houston, Texas, United States

For the UFC Middleweight Championship.

Win

23–5

Kelvin Gastelum
UFC on ESPN: Whittaker vs. Gastelum

17-Apr-21

Las Vegas, Nevada, United States

Fight of the Night.

Win

22–5

Jared Cannonier
UFC 254

24-Oct-20

Abu Dhabi, United Arab Emirates
Win

21–5

Darren Till

UFC on ESPN: Whittaker vs. Till

26-Jul-20

Abu Dhabi, United Arab Emirates
Loss

20–5

Israel Adesanya

UFC 243

6-Oct-19

Melbourne, Australia

Lost the UFC Middleweight Championship.

Win

20–4

Yoel Romero

UFC 225

9-Jun-18

Chicago, Illinois, United States

Non-title bout; Romero missed weight (185.2 lb). Fight of the Night. Fight of the Year (2018).

Win

19–4

Yoel Romero

UFC 213

8-Jul-17

Las Vegas, Nevada, United States

Won the interim UFC Middleweight Championship. Fight of the Night. Later promoted to undisputed champion.

Win

18–4

Ronaldo Souza

UFC on Fox: Johnson vs. Reis

15-Apr-17

Kansas City, Missouri, United States

Performance of the Night.

Win

17–4

Derek Brunson

UFC Fight Night: Whittaker vs. Brunson

27-Nov-16

Melbourne, Australia

Performance of the Night. Fight of the Night.

Win

16–4

Rafael Natal

UFC 197

23-Apr-16

Las Vegas, Nevada, United States
Win

15–4

Uriah Hall

UFC 193

15-Nov-15

Melbourne, Australia
Win

14–4

Brad Tavares

UFC Fight Night: Miocic vs. Hunt

10-May-15

Adelaide, Australia

Performance of the Night.

Win

13–4

Clint Hester

UFC Fight Night: Rockhold vs. Bisping

8-Nov-14

Sydney, Australia

Middleweight debut. Fight of the Night.

Win

12–4

Mike Rhodes

UFC Fight Night: Te Huna vs. Marquardt

28-Jun-14

Auckland, New Zealand
Loss

11–4

Stephen Thompson

UFC 170

22-Feb-14

Las Vegas, Nevada, United States
Loss

11–3

Court McGee

UFC Fight Night: Condit vs. Kampmann 2

28-Aug-13

Indianapolis, Indiana, United States
Win

11–2

Colton Smith

UFC 160

25-May-13

Las Vegas, Nevada, United States
Win

10–2

Brad Scott

UFC on FX: Sotiropoulos vs. Pearson

15-Dec-12

Gold Coast, Australia

Won The Ultimate Fighter: The Smashes Welterweight Tournament.

Loss

9–2

Jesse Juarez

Cage Fighting Championships 21

18-May-12

Sydney, Australia

For the CFC Welterweight Championship.

Win

9–1

Shaun Spooner

Superfight Australia 13

23-Mar-12

Perth, Australia

Won the SFA Welterweight Championship.

Win

8–1

Ian Bone

Cage Fighting Championships 19

9-Dec-11

Sydney, Australia
Loss

7–1

Hoon Kim

Legend Fighting Championship 6

30-Oct-11

Macau, SAR, China
Win

7–0

Corey Nelson

Cage Fighting Championships 18

26-Aug-11

Sydney, Australia
Win

6–0

Ben Alloway

Cage Fighting Championships 17

3-Jun-11

Gold Coast, Australia
Win

5–0

Nate Thomson

Cage Fighting Championships 15

8-Oct-10

Sydney, Australia
Win

4–0

Jay Cobain

Cage Fighting Championships 14

5-Jun-10

Sydney, Australia
Win

3–0

Nick Ariel

Cage Fighting Championships 12

12-Mar-10

Sydney, Australia
Win

2–0

Richard Walsh

Cage Fighting Championships 11

20-Nov-09

Sydney, Australia
Win

1–0

Chris Tallowin

XFC 14

14-Mar-09

Perth, Australia