Alexander Volkanovski is the current UFC featherweight Champion and one of the greatest fighters in the world. Australia's Alexander Volkanovski, a mixed martial artist, was born on September 29, 1988. He is the current UFC Featherweight Champion and competes in the Featherweight division of the Ultimate Fighting Championship (UFC). He was formerly the Featherweight champion of the Australian Fighting Championship (AFC). Volkanovski competed as a professional boxer in 2015 before making his UFC debut. He is currently ranked first in the UFC men's pound-for-pound rankings as of 16 November 2022.
Background
Volkanovski was born in Shellharbour, New South Wales, on September 29, 1988. After relocating his training facility to City Kickboxing in Auckland, New Zealand, in 2016, Alex became a citizen of that country. While his mother is from Greece, his father was born in the SR Macedonian hamlet of Beranci (now North Macedonia). At a young age, Alex started training in Greco-Roman wrestling, and by the time he was 12, he had won two national championships. At the age of 14, he made the decision to give up wrestling in favour of a front rower career in rugby league. Volkanovski finished high school at Lake Illawarra High School and went on to work as a concreter.
Volkanovski Rugby
He competed in the South Coast Rugby League as a semi-professional rugby league player with the Warilla Gorillas, winning the Mick Cronin Medal as the league's top player in 2010. His performance in his team's Grand Final triumph over Gerringong earned him the Man of the Match award. He also had a significant impact on Warilla's 2011 Premiership-winning campaign. In the latter half of 2011, Volkanovski made the decision to leave rugby league at the age of 23 in order to pursue a professional career in mixed martial arts. He claims to have been a longtime fan of the Ultimate Fighting Championship, often renting UFC VHS videos from Blockbuster and buying UFC pay-per-views starting at the age of 14.
Alexander Volkanovski Mixed martial arts career
Volkanovski competed in MMA matches in the Oceania region of Asia from 2012 to July 2016 before joining the UFC. He started out as an amateur middleweight and went 4-0 before turning professional. He won two Australian Fighting Championship (AFC) Featherweight titles in addition to a Pacific Xtreme Combat (PXC) title. Prior to entering the UFC, Volkanovski amassed a 13-1 record with 10 straight victories.
ALEXANDER VOLKANOVSKI Ultimate Fighting Championship
On November 26, 2016, Volkanovski made his promotional debut. At UFC Fight Night 101, he defeated Yusuke Kasuya in the second round to extend his winning streak to 11. At the post-fight press conference, he declared that he would switch weight classes for his upcoming fight, moving from lightweight to featherweight.
Volkanovski Move down to Featherweight
On February 19, 2017, Volkanovski was scheduled to fight Michel Quiones at UFC Fight Night 105. Due to Quiones' injury and the inability to find a replacement, the match was abandoned.
On June 11, 2017, Volkanovski competed in UFC Fight Night 110 as a Featherweight once more, taking on Mizuto Hirota. After knocking Hirota to the ground and nearly finishing him, he prevailed by unanimous decision.
On November 19, 2017, in Sydney, Australia, Volkanovski was scheduled to compete against Jeremy Kennedy at UFC Fight Night: Werdum vs. Tybura. Kennedy, however, withdrew from the fight on October 5 due to a back ailment, and Humberto Bandenay took his place. In November 2017, it was revealed that Bandenay would replace Drex Zamboanga for this event and postpone making his UFC debut for an unannounced reason. In response, Zamboanga withdrew from the bout due to visa complications, and Shane Young, a promotional newbie, took his place. The catchweight for the fight was 150 pounds. Volkanovski prevailed by unanimous decision in the match.
At UFC 221, the match with Kennedy was rescheduled until February 11th, 2018. He was knocked out technically to win the match.
On July 14, 2018, Darren Elkins and Volkanovski squared off at UFC Fight Night 133. He prevailed by unanimous judgement in the match.
On December 29, 2018, Volkanovski competed against Chad Mendes at UFC 232. After surviving his own two knockdowns, he was able to win the bout through technical knockout in round two. He won the Fight of the Night prize for this battle.
On May 11, 2019, Volkanovski competed against former featherweight champion José Aldo. He prevailed by unanimous decision.
UFC Featherweight Ranking
At UFC 245 on December 14, 2019, Volkanovski squared off against Max Holloway for the UFC Featherweight Championship. Volkanovski prevailed by unanimous decision in the match.
At UFC 251 on July 11, 2020, Volkanovski successfully defended his first championship against Max Holloway in a rematch. He prevailed in a close decision. 18 out of 27 media scores gave the victory to Holloway, who was backed by numerous mixed martial artists, UFC president Dana White, former referee and rules system designer John McCarthy, and other notable figures in the sport.
On March 27, 2021, at UFC 260, Volkanovski was supposed to face Brian Ortega in his second championship defence. However, owing to COVID-19 protocols, the combat was called off. Volkanovski later tweeted that his COVID-19 test was positive.
The coaches for The Ultimate Fighter 29 on ESPN+, which included bantamweight and middleweight competitors, were revealed to be Brian Ortega and Volkanovski on April 2, 2021.
At UFC 266 on September 25, 2021, Volkanovski competed against Brian Ortega for the UFC Featherweight Championship. He prevailed by unanimous judgement in the match. Volkanovski won acclaim from all quarters for his tenacity in fending off numerous attempts at capitulation. He won the Fight of the Night prize for this battle.
On March 5, 2022, at UFC 272, Volkanovski was slated to take on Max Holloway for a third time. However, Holloway was forced to cancel the event owing to an injury a day after the announcement. On April 9, 2022, Holloway was replaced by Chan Sung Jung, and the title fight was moved to UFC 273. Volkanovski dominated the fight for the bulk of it and scored three knockdowns before winning by standing TKO early in the fourth round. He was awarded Performance of the Night for his triumph. He placed second in the Crypto.com "Fan Bonus of the Night" competition thanks to the battle as well.
The trilogy matchup with Holloway was moved to July 2, 2022, at UFC 276. Volkanovski prevailed via unanimous decision after receiving a 50-45 score from each of the three judges. His victory qualified him for the Crypto.com Fan Bonus of the Night second place prize, which was worth US$20,000 in bitcoin.
ALEXANDER VOLKANOVSKI Next Fight UFC Lightweight Championship
On February 12, 2023, at UFC 284, Volkanovski is slated to compete against the current UFC Lightweight Champion Islam Makhachev.
The main event is anticipated to feature a UFC Lightweight Championship fight between current champion Islam Makhachev and current UFC Featherweight Champion Alexander Volkanovski. This will be the eighth occasion in UFC history—following UFC 94, UFC 205, UFC 226, UFC 232, UFC Fight Night: Cejudo vs. Dillashaw, UFC 259, and UFC 277—in which champions from various divisions will compete for the same title. If successful, Volkanovski will become the fifth fighter overall (following Conor McGregor at UFC 205, Daniel Cormier at UFC 226, Amanda Nunes at UFC 232 and UFC 277, and Henry Cejudo at UFC 238), the fourth man to hold titles in two divisions simultaneously, the eighth individual to do so overall (after Daniel Cormier at UFC 226).
Alexander Volkanovski Wife and Personal Life
Alexander "The Great" Volkanovski is married to actress Emma Volkanovski. Emma, a model and influencer on Instagram, first met Alexander more than ten years ago. Additionally, she is the mother of Volkanovski's two kids.
Emma Volkanovski is a University of Sydney graduate with a degree in physiology. She finished her coursework before she met Alexander. She is well recognised for both her good looks and the fact that she is taller than her husband. The MMA community has made jokes online about their disparity in height.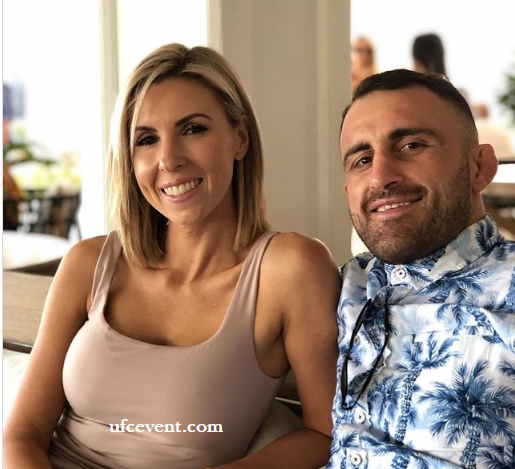 Even though she is married to a well-known fighter, Emma Volkanovski has built her own profession and is independent of her husband's success.
Emma and Alex are frequently photographed together in public and in social media posts, where they appear to be a content family free of conflicts.
Emma attends each of Alexander's fights and uses her online presence to help promote them. These specific reasons are why their marriage has endured for so long.
Mixed Martial Arts Record Break Down
| | | |
| --- | --- | --- |
| 26 matches | 25 wins | 1 loss |
| By knockout | 12 | 01 |
| By submission | 03 | 0 |
| By decision | 10 | 0 |
UFC Records of Alexander Volkanovski
| Res. | Record | Opponent | Event | Date | Round | Time | Location | Notes |
| --- | --- | --- | --- | --- | --- | --- | --- | --- |
| Win | 25–1 | Max Holloway | UFC 276 | 2022-07-02 00:00:00 | 5 | 1970-01-01 05:00:00 | Las Vegas, Nevada, United States | Defended the UFC Featherweight Championship. |
| Win | 24–1 | Jung Chan-sung | UFC 273 | 2022-04-09 00:00:00 | 4 | 1970-01-01 00:45:00 | Jacksonville, Florida, United States | Defended the UFC Featherweight Championship. Performance of the Night. |
| Win | 23–1 | Brian Ortega | UFC 266 | 2021-09-25 00:00:00 | 5 | 1970-01-01 05:00:00 | Las Vegas, Nevada, United States | Defended the UFC Featherweight Championship. Fight of the Night. |
| Win | 22–1 | Max Holloway | UFC 251 | 2020-07-12 00:00:00 | 5 | 1970-01-01 05:00:00 | Abu Dhabi, United Arab Emirates | Defended the UFC Featherweight Championship. |
| Win | 21–1 | Max Holloway | UFC 245 | 2019-12-14 00:00:00 | 5 | 1970-01-01 05:00:00 | Las Vegas, Nevada, United States | Won the UFC Featherweight Championship. |
| Win | 20–1 | José Aldo | UFC 237 | 2019-05-11 00:00:00 | 3 | 1970-01-01 05:00:00 | Rio de Janeiro, Brazil | |
| Win | 19–1 | Chad Mendes | UFC 232 | 2018-12-29 00:00:00 | 2 | 1970-01-01 04:14:00 | Inglewood, California, United States | Fight of the Night. |
| Win | 18–1 | Darren Elkins | UFC Fight Night: dos Santos vs. Ivanov | 2018-07-14 00:00:00 | 3 | 1970-01-01 05:00:00 | Boise, Idaho, United States | |
| Win | 17–1 | Jeremy Kennedy | UFC 221 | 2018-02-11 00:00:00 | 2 | 1970-01-01 04:57:00 | Perth, Australia | |
| Win | 16–1 | Shane Young | UFC Fight Night: Werdum vs. Tybura | 2017-11-19 00:00:00 | 3 | 1970-01-01 05:00:00 | Sydney, Australia | Catchweight (150 lb) bout. |
| Win | 15–1 | Mizuto Hirota | UFC Fight Night: Lewis vs. Hunt | 2017-06-11 00:00:00 | 3 | 1970-01-01 05:00:00 | Auckland, New Zealand | Return to Featherweight. |
| Win | 14–1 | Yusuke Kasuya | UFC Fight Night: Whittaker vs. Brunson | 2016-11-26 00:00:00 | 2 | 1970-01-01 02:06:00 | Melbourne, Australia | |
| Win | 13–1 | Jai Bradney | Wollongong Wars 4 | 2016-07-08 00:00:00 | 1 | N/A | Wollongong, Australia | Return to Lightweight. Won the Wollongong Wars Lightweight Championship. |
| Win | 12–1 | Jamie Mullarkey | Australian FC 15 | 2016-05-19 00:00:00 | 1 | 1970-01-01 03:23:00 | Melbourne, Australia | Defended the AFC Featherweight Championship. |
| Win | 11–1 | Yusuke Yachi | Pacific Xtreme Combat 50 | 2015-12-04 00:00:00 | 4 | 1970-01-01 03:43:00 | Mangilao, Guam | Won the PXC Featherweight Championship. |
| Win | 10–1 | James Bishop | Australian FC 13 | 2015-06-14 00:00:00 | 1 | 1970-01-01 01:39:00 | Melbourne, Australia | Won the AFC Featherweight Championship. |
| Win | 9–1 | David Butt | Wollongong Wars 2 | 2014-11-01 00:00:00 | 2 | 1970-01-01 01:52:00 | Thirroul, Australia | Lightweight bout. |
| Win | 8–1 | Kyle Reyes | Pacific Xtreme Combat 45 | 2014-10-24 00:00:00 | 3 | 1970-01-01 05:00:00 | Mangilao, Guam | Return to Featherweight. |
| Win | 7–1 | Jai Bradney | Roshambo MMA 3 | 2014-07-26 00:00:00 | 1 | 1970-01-01 04:58:00 | Chandler, Australia | Defended the Roshambo MMA Lightweight Championship. |
| Win | 6–1 | Rodolfo Marques Diniz | Australian FC 9 | 2014-05-17 00:00:00 | 1 | 1970-01-01 03:41:00 | Albury, Australia | Featherweight debut. |
| Win | 5–1 | Greg Atzori | Roshambo MMA 2 | 2014-02-01 00:00:00 | 1 | N/A | Brisbane, Australia | Lightweight debut. Won the Roshambo MMA Lightweight Championship. |
| Win | 4–1 | Luke Catubig | Australian FC 7 | 2013-12-14 00:00:00 | 3 | 1970-01-01 04:39:00 | Melbourne, Australia | |
| Loss | 3–1 | Corey Nelson | Australian FC 5 | 2013-05-10 00:00:00 | 3 | 1970-01-01 00:13:00 | Melbourne, Australia | AFC Welterweight Tournament Quarterfinal. |
| Win | 3–0 | Anton Zafir | Roshambo MMA 1 | 2013-04-17 00:00:00 | 4 | 1970-01-01 02:19:00 | Brisbane, Australia | Won the Roshambo MMA Welterweight Championship. |
| Win | 2–0 | Regan Wilson | Southern Fight Promotions: Cage Conquest 2 | 2013-02-23 00:00:00 | 1 | 1970-01-01 02:49:00 | Nowra, Australia | Won the Cage Conquest Welterweight Championship. |
| Win | 1–0 | Gerhard Voigt | Revolution Promotions: Revolution at the Roxy | 2012-05-19 00:00:00 | 3 | 1970-01-01 05:00:00 | Sydney, Australia | Welterweight debut. |